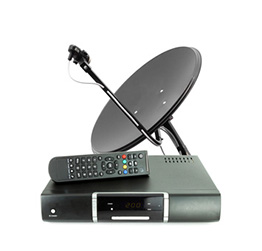 There are many different satellite broadcasters in the UK, but undoubtedly the biggest are Sky and Freesat. At Central UK, we have years of experience in installing, repairing and trouble-shooting problems with Sky and Freesat.
Although Sky usually include satellite installation for new customers, they're not necessarily the cheapest option if you're moving house, moving a SKY+ or SKY+ HD box within your existing home or if you've acquired an additional box from family or friends. Sky's in-house satellite installers also work within very strict guidelines which means there are some installations (particularly in flats) which they're unable to do.
At Central UK, our fully trained satellite installers and aerial installers are capable of doing whatever you need to get satellite television wherever you need it – without sacrificing on safety or massively increasing on price. Our installation services include dish realignment, relocation of the dish to another part of your property, replacing old or damaged LNBs, multi room, full installations and replacement box installation.
If you're fed up paying SKY a fortune for your monthly television bill, then FREESAT may just be the less expensive option you've been looking for. Using the same satellite dish but a different box, FREESAT delivers television in a similar subscription free way to FREEVIEW, but with more standard and high definition (HD) channels on offer.
We're also one of the area's premier specialists for installations on commercial or industrial premises.
Whatever your sky installation or aerial installation requirements, at Central UK we can help.
Our Sky Plus installers and FreeSat installers can help with:
FreeSat Installation
Freesat repairs
SKY satellite repair
SKY satellite installations
New LNB installations
SKY troubleshooting
SKY plus installers
SKY+ HD installers
SKY multiroom installations
Relocating satellite dishes
Satellite dish installation
Call us on 01324 430027 or 01786 542017, to find out more about our Sky installation and Freesat installation services.