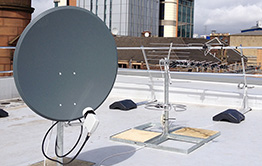 At Central UK, we're proud to help the homes and offices of Stirling, Falkirk and Clackmannanshire receive crystal clear television pictures either through a FreeView digital aerial or with a Sky or FreeSat satellite dish.
Our fully trained satellite installers and aerial installers will help ensure you're receiving all 72 freeview and freeview HD channels with either a new aerial installation or repair of an existing system.
With our satellite installation service we are usually less expensive than Sky for everything with the exception of a new installation (which they massively subsidise to encourage you to subscribe), including moving cabling for Sky+ and Sky+ HD boxes to other rooms.
Or if you need multiroom aerial or satellite points in bedrooms, kitchens, conservatories or any other room in the house, our satellite installers and aerial installers can do this easily and with minimum disruption.
And if you're thinking of wall mounting your television, we can ensure it's done properly and safely while ensuring all wires and boxes are hidden away in a neat and tidy fashion.
At Central UK (Satellites and Aerials), we're the number one choice in Falkirk, Stirling and Alloa for a professional and cost effective TV solution.
Call us on 01324 430027 or 01786 542017, to find out more about our satellite installation and aerial installation services.