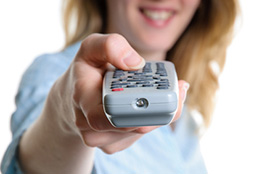 Almost all new televisions now come with internet capabilities. This allows you to access catch up TV through such services as the BBC iPlayer, Youview, on demand movies through Netflix and Lovefilm, internet content through apps such as Youtube; you can even make Skype phone calls from your television.
Internet access isn't just restricted to your TV; Sky, Sky+, Sky+HD, games consoles and more are all connected to the world wide web and connected to each other. Youview receivers are bringing all of the catch up and on demand services to home PVRS (Personal Video Recorders). Internet sockets in your home may soon rival or even replace aerial sockets.
At Central UK our network installers can ensure that your home network is up to the task of delivering the huge volume of data required to power these new services. We can install both wired and wireless solutions, provide and run cabling if required and ensure that all of your gadgets are speaking to each other.
We can provide solutions for existing buildings or work with architects to provide tailor made solutions for new buildings.
Call us on 01324 430027 or 01786 542017, to find out more about our TV Wall-Mounting services.