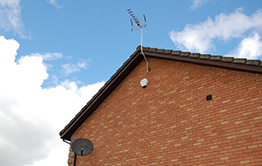 Whether you've moved into a new home that doesn't have an aerial or need an existing system repaired or replaced, at Central UK our aerial installers will have you watching crystal clear television pictures in no time at all.
For new aerial installations, our engineers will first assess the best location to position the aerial and then work out the best way to get the cabling to the television while keeping as much of it hidden as possible. We pride ourselves in doing a neat and tidy job.
We only use the best wideband digital aerials in order to make sure you're getting as many of the 72 Freeview and Freeview HD channels as possible and a sigital reception free of "blocking" and "freezing" pictures.
If you're not getting all of the channels you expect, you've probably got older analogue aerial equipment either on your roof or in your loft which is struggling to cope since the digital switchover. Or you may have coaxial cabling which is starting to decay with age or has water damage, all of which can affect television reception. Our aerial installers can assess every situation and recommend a solution that will work.
We're also one of the area's best local aerial installation experts for commercial and industrial premises.
Call us on 01324 430027 or 01786 542017, to find out more about our Freeview installation and Aerial installation services.