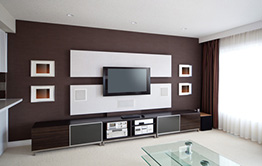 We take pride not only in our satellite installations and aerial installations, but also our audio and visual installations. With a wide range of audio and visual installation services, Central UK can provide a suitable solution to your requirements and budget - no job being too small or too large for our trained and experienced engineers!
From simple multiroom audio systems to full 1080p HDTV distribution systems, Central UK can provide you with whichever installation you have been dreaming of - making sure it is not only the best quality, but also the best price!
If you have just purchased a new screen from a reseller and are unsure about what type of bracket and cabling length you would need, there is no need to worry! Our well-equipped installation team has all the equipment, including brackets, cables and correct fixings to install your equipment, providing the audio and visual system you have always dreamed of!
Sonos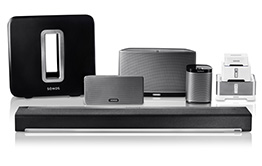 Sonos is a system of HiFi wireless speakers and audio components. It unites your digital music collection in one app that you control from any device. Play what you want in every room over a dedicated wireless network.
We have installed some very large projects with Sonos throughout the whole home all racked in a server room out of sight, We also install basic Sonos systems for kitchens, bathrooms, bedrooms, gardens, even swimming pools and out door music.
Professional Sonos Installation
WyreStorm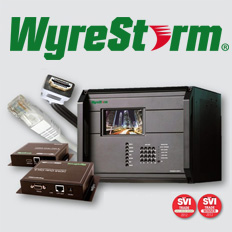 We install high definition video distribution systems for residential and commercial applications. Our systems can then be tied in with home control systems for ease of use. We have been installing structured wiring for home and commercial use for many years.
We can deliver high definition video from a variety of sources to however many television sets you require allowing you to watch a film or use a games console wherever you are in the house. We offer fully integrated solutions with home automation systems or stand alone distribution systems depending on your requirements.
Professional WyreStorm Installation
Call us on 01324 430027 or 01786 542017, to find out more about our professional audio and visual installation services.