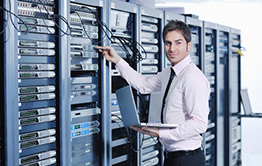 Our maintenance contracts give a cost effective, monthly payment solution for your IT requirements. You'll enjoy regular checks on your servers, workstations, networks and printers to ensure they are running smoothly and efficiently. We'll perform regular updates all relevant software and, when necessary, source and install replacement hardware.
With our maintenance contracts we'll ensure your data is regularly backed up, with a dedicated storage solution on your premises or using an online cloud based backup system. We'll monitor your computers 24/7 and if there is a failure, you'll be notified within minutes.
You'll also enjoy preferential rates on any additional work required, from help with moving or expanding premises to improving and extending existing networks.
All of this improves your working experience and minimises the chances of an unexpected failure. However, if a hardware or software problem occurs, then you'll enjoy same day servicing to ensure you are inconvenienced for as little time as possible.
Whether you are large, small business or home user we will put together a computer & network maintenance package that will suite your individual needs and budget.
Our service charges are based on the number of servers, workstations and printers in your office, but you'll be surprised by how little it costs to give you IT peace of mind.
Whatever you need from your IT system anywhere in Falkirk, Stirling, Alloa or across Central Scotland, at Central UK we can make it happen.
Call us on 01324 430027 or 01786 542017, to find out more about our maintenance contracts.