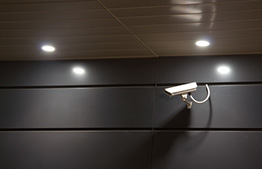 Central UK provides security lighting solutions to clients all over Stirling, Alloa, Falkirk and the Central Belt. It is an excellent way to deter criminal activity around both your home and office, both inside and out.
We can provide "always on" solutions, designed to ensure the exterior of your premises are always fully lit during the hours of darkness. This is solution best suited to isolated buildings where light pollution is not an issue.
Or if your premises are in a built up area, particularly in areas with residential property, we can design a system triggered by motion, meaning lights are only on when necessary.
All of our systems use components that are designed to be both energy efficient, thus saving you money, and environmentally friendly, helping you do your bit to reduce your carbon footprint.
Inside your premises, we can provide a range of solutions to ensure your building is never totally in darkness, ensuring that there is no areas where untoward activity will be easy to conduct.
Contact Central UK now on 01324 430027 or 01786 542017, to discuss an individual security lighting solution that will be perfect for your premises.